April Favourites | 2015
nedjelja, svibnja 10, 2015
Helloooo guys!
I haven't been able to post lately cause I had so many things to do. But I will make it up to you! You are going to see my new review posts soon about things I got this month.
So let's get started.
I had amazing time with my friends this month. We went to Sarajevo on 34. Nivea Fashion Week cause my friend had her first fashion show. It was amazing! Now let's talk about those april favouriteeees! I have so many things that I loved using this month.
1. "Read my lips!" - The Balm lipgloss in colour | Snap
These lip glosses feature a wide range of shades that make a statement without saying a word. "Smart-mouthed" takes on a new meaning with this unique formula fortified with Ginseng, a powerful antioxidant known for its mentally stimulating properties.
It's nude and I love it! | http://www.thebalm.com/ - Order now - only 15 $
2. Syoss Anti dandruff Shampoo
Dandruff has been one of my main problem especially when I begun to switch to using different hair products. My scalp tends to get so dry most of the time that makes me become prone to dandruff.
This shampoo and conditioner helps a lot to eliminate the dandruff. They work together and delivers great result. My hair is never dry unlike with other anti-dandruff shampoo. Although it lacks bounce, I like the softness it gives to my hair. The Keratin ingredient helps strengthen hair which is perfect. Both products have nice scents.
3. Catrice | Absolute Nude Palette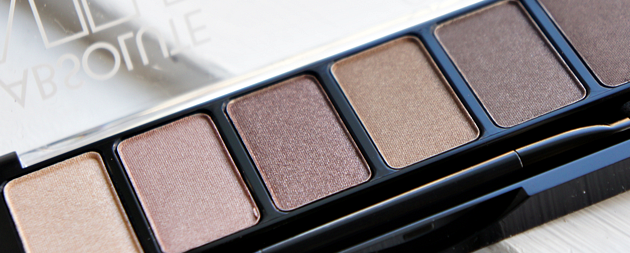 If you are a lover of neutral shades this is the palette for you which i can safely say all of us are neutral lovers :)
The palette contains 6 eyeshadows for only €5.49 which is a bargain in itself if you ask me. The moment I saw this palette and the shades I instantly thought "Awwwww a mini Naked Palette" but of course I had to test them out to see if they were even close to some shades you get on the naked palette. To find out if there is dupes you will have to read on but for now lets show you this little beauty.
I like the packaging Its slim, black and has a transparent lid to make the shades visable, it doesnt feel cheap and the lid is very sturdy.

4. Balea | Dush-Body Milk

Lately my skin was very dry so I wanted to try out this limited edition vanilla dush-body milk. I tried one from Nivea and it didn't do anything for me. But I love this one! My skin is soft and smells so good. Big thumbs up!


5.

The Balm | Frat Boy Blush
This is a very pretty coral blush which is very natural on and wears for a long time. It is very easy to use because it gives a nice pop of color without being too much.
It
gives me fresh, natural look for daily use. It's so powdery, so you just have to tap your brush on the pan, tap the excess powder, and lightly apply it to your cheeks.
Thank you for stopping by. Hope you love this post!
Follow me on instagram for everyday update - @miaaak18
Bye !